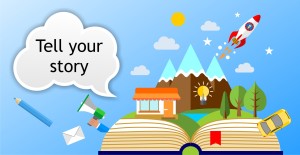 Facebook want you to tell your business story and have just given you the functionality to do just that. You can create a short video complete with a short explanation of what you do, background music and 8 images from your Facebook photo library.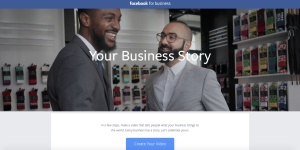 Step 1: Go to https://yourbusinessstory.fb.com/en/#
Step 2: Click on 'Create your Video'
Step 3: On this screen you pick which page you wish to make the video for (If you have more than one business page, they will all be displayed)
Step 4: You will see the photo albums from your business page displayed on the screen. From here you can choose the 8 images that you wish to use. The image size advised is 1200 x 1200 pixels.
Due the size constraints, we found it easier to create images specifically for the purpose of using them in the video. We posted the images one at a time on our Facebook business page over the course of a few days. (We did it over a few days so we didn't appear to be spamming).
Once you have selected the images you are going to use, click select.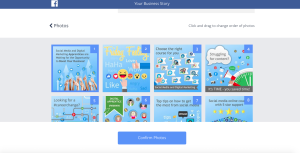 Step 5: You can change the order that the images appear in the video. Click and drag each one to the position you require. Once you are happy, click 'confirm'.
Step 6: You now have 90 characters to complete the sentence "We are in the business of…" Click 'Confirm your story'.
Step 7: You have 4 types of background music to choose from for the soundtrack of your story. Once you have picked your favourite click 'confirm music'
Step 8: Once the next page is displayed it is now time to view your video. If you wish to make any changes, then click 'edit video', if you are happy to share, then you can click 'post to your page'. Your video will be posted to your page in a matter of minutes.
Have a look at our Facebook business story and do share your own in the comments below.