Learn how to market your business online with the City & Guilds Diploma in Social Media For Business Qualification
Fully supported by a personal tutor
Up to date content, in-depth and practical
12 month practical course
The City & Guilds Diploma in Social Media For Business Qualification
Social media is no longer an optional marketing channel in today's competitive world, it is essential. For many, social media is simply posting content in the hope that their prospects and customer will see it, like it, and share it. However, marketing your business effectively takes, time effort, and a good deal of skill.
If you want to gain practical knowledge of the full suite of popular social media channels to market your business and get a return on your investment, you have come to the right place. The City & Guilds Diploma in Social Media for Business qualification combines technical knowledge using social media channels with a rigorous marketing approach so that you can immediately apply your knowledge, learning to grow your business and achieve your goals.
The complete range of social media channels including Twitter, LinkedIn, Facebook, Instagram and Pinterest.
Marketing concepts including audience personas, call to actions and marketing plans.
Search engine optimisation so you can use the correct keywords on your website and on your social media channels.
Digital advertising campaigns.
Creating and using images throughout your social media.
Using mobile marketing techniques.
The laws and guidelines surrounding social media including copyright.
Measurement of social media marketing.
Flexible
Learn when you want, where you are (Internet connection needed).
Practical
No exams, implement what you learn immediately.
Structured
You follow a schedule of e-learning, webinars and assignments over a 12 month period so you have deadlines to work towards.
Assessed
You follow a schedule of e-learning, webinars and assignments over a 12 month period so you have deadlines to work towards.
Supported
You can contact your personal assessor at any time to ask about the assignments, the learning or how you are implementing what you are learning.
Up to date
All e-learning is updated every 6 months and you will also have access to a monthly update document covering all the updates in the social media industry.
Detailed
You will be given a huge amount of content about digital marketing which you can use in your own business or you can use to set up a freelance consultancy.
Accredited
This is an internationally recognised social media qualification from City & Guilds and we are proud of the quality standards this means we need to adhere to.
What Happens During Training
You will attend 13 live online class webinars 3 – 4 weeks apart. If you are unable to attend live, recordings are available.
You will complete 15 e-learning courses to learn the how and why of each of the channels.
You'll be placed in a supportive group of peers and alumni who can help you through the course with ideas and guidance.
Learning is carried out remotely online. All you need is a web-enabled laptop, PC or tablet with a decent Internet connection and you can study from anywhere and whenever you want.
You will have a dedicated course tutor who you are encouraged to contact with questions queries or even if you just want to say hello and discuss social media marketing (we are a friendly bunch).
Your tutor can also help you in a coaching capacity, helping with job references, new business ventures, networking and even writing your first proposal.
For the duration of your Diploma in Social Media for Business qualification you will be provided with monthly update documents that summarise all you need to know about what is changing in the world of social media.
Who Is It For?
This course is perfect for you if:
You want to become a freelance social media consultant working from home
You have just moved into a new role managing social media for your business
You are a small business owner who wants to grow the business through the use of social media
You would like a new career in social media marketing
How Much Does It Cost?
The Diploma in Social Media for Business qualification costs £1908 + VAT or 12 monthly instalments of £163 + VAT.  VAT (a sales tax) is only payable in the EU at the rate applicable in your country.  Payment can be made by BACs transfer or direct debit (UK only) or Credit Card or PayPal (Worldwide).
This includes all your learning, assessment, support, registration and certification as well as a copy of 'Social Media Made Simple'.
How Long Does It Take?
This social media for business qualification takes 12 months of structured learning.  We ask you to complete 15 e-learning courses and attend 13 webinars during the 12 months.  You are asked to complete 12 assignments covering both practical skills you can immediately implement as well as ensuring you have a good understanding of the theory behind the practical.  We recommend you spend approximately 10 hours a week learning, completing assignments and applying what you learn.
When Can I Start?
We run 4 cohorts during the year for the Diploma in Social Media for Business qualification.  Each cohort is a maximum of 10 people so that you can each be given a high level of personal support.  Our next cohort starts on 15th October 2021.
Have you completed this course?
Best Social Media for Business Qualification from £163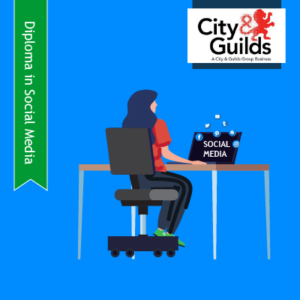 The Diploma in Social Media for Business qualification is a practical, City and Guilds accredited, distance learning qualification
Course Provider: Organization
Course Provider Name: Concise Training
Course Provider URL: https://concisetraining.net