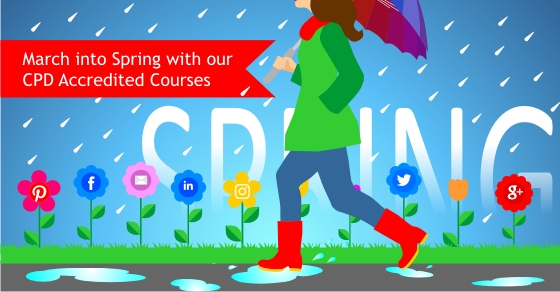 We are delighted to announce that 10 of our popular e-Learning courses have received accreditation by the CPD (Continuing Professional Development) certification service.
The CPD certification service has been established for over 20 years and is the leading independent CPD accreditation institution operating across industry sectors to complement the Continuing Professional Development policies of professional institutes and academic bodies.
CPD is the holistic commitment of professionals towards the enhancement of personal skills and proficiency throughout their careers. (Source)
Many professional bodies require members to submit annual CPD statements to show what learning they have undertaken during the year.  Many people find that doing CPD courses help them develop professionally and update their knowledge and skills.  The advantage of taking a CPD accredited courses is that you can be sure that the course is of a high quality as all CPD courses (online and offline) are put through a thorough quality assessment to ensure they …
Our e-Learning courses are created solely with the user in mind who wants to learn in their own time and at their own pace. Each course is structured into learning objects each filled with valuable hands-on learning material. 
Each of our courses … 
We have received CPD certification for the following courses:
Social Media Strategy for Business – 17 CPD Credits
Our social media strategy for business online course will teach you how social media can be used in your business effectively. It will ensure that you use the correct tools and interact with the appropriate audience for your business. By the end of the online course, you will have created a social media strategy, a social media policy and a content plan.
Blogging for Business – 19 CPD Credits
Our blogging for business online course will explain in detail what a blog is, what software you can use to create one and how to use that software. You will learn how blogging can be used to promote your brand and attract new business.
Facebook for Business – 15 CPD Credits
Facebook is a 'must-use' social network for many businesses. With our comprehensive Facebook for business online course, you will learn how to use Facebook, why to use Facebook to reach your audience and what you want to achieve from the social media channel.  You will investigate who your Facebook audience will be, and where to find them as well as what to say on Facebook and how to encourage engagement.
Instagram for Business – 5 CPD Credits
Our comprehensive Instagram for business online course will guide you on how you set up your profile and get started on Instagram. You will also learn how you will benefit from using Instagram as a marketing tool for your business. 
LinkedIn for Business – 11 CPD Credits
During our LinkedIn for Business online course, you will learn how you can develop and market your personal brand and that of your business using LinkedIn. You will find, contact and engage with important business contacts and potential customers.
Pinterest for Business – 10 CPD Credits
Our Pinterest for Business online course will teach you how to use Pinterest and help you to understand why you would want to use Pinterest for marketing your business. You will investigate the type of Pinterest pins to use, what to post, how to link the platform to your website and how to encourage engagement.
Twitter for Business – 13 CPD Credits
By completing our Twitter online course you will understand how to use Twitter cost-effectively and time efficiently and how to reach out and communicate with the correct audience for your business. During the course, you will learn how to develop your brand awareness, provide excellent customer service and keep up with your competitors.
Creating Video for Business – 19 CPD Credits
By completing our video for business online course you will be able to produce, create, edit, publish and share your professional video at a fraction of the cost of paying for expensive video creation fees. 
Introduction to SEO (Search Engine Optimisation) – 6 CPD Credits
Our Introduction to Search Engine Optimisation online course helps you to identify relevant keywords for your business and incorporate them into your website and shared content such as blog posts, social media posts. 
WordPress for Websites – 15 Credits
Our comprehensive WordPress for websites online course will take you through the features of the WordPress software and the steps you need to create your own website from scratch or to maintain an existing website in-house. You will create a WordPress website complete with blog.
So what are you waiting for? Update your skills and knowledge, get to grips with a new social media / digital marketing channel and help your career development by taking one of our CPD accredited e-Learning courses today.