Following on my recent posts about planning content, topics to share and my recent radio interview, I wanted to share another form of content that I have been creating during the last few months.
Last summer, I was approached by Sophie from BookBoon about writing a series of eBooks. BookBoon offers "a large range of quality eBooks for university students and business professionals". Many of their books are available for free and contain adverts, others are available advert free for a small fee. As the author, I get a small percentage of advertising or purchase costs.
So far, I have published two eBooks with BookBoon:
Using Social Media for Personal Gain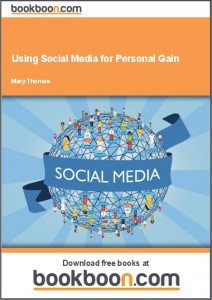 This is aimed at individuals who want to know how to use social media on a personal level. It looks at an individual's personal brand and how this should be reflected in a range of social media tools. The idea behind the book is to describe the advantages and disadvantages of a variety of tools.  Obviously, the main ones are discussed (Twitter, Facebook, LinkedIn), but I also wanted individuals to understand how they could use applications like blogs, Pinterest, Instagram, Flickr, WhatsApp, Snapchat, YouTube and others.
A review of the book
"This book is perfect for those who want to be more productive in an accessible way. Social media is a powerful tool and this book will lead you somewhere you can be someone"
I've recently been told that the book was downloaded 26,000 times from 1/1/14 to 28/2/14 – quite a good marketing tool! I know for a fact that the book was downloaded by somebody in Ireland who subsequently purchased my printed book, 'Social Media Made Simple' and then bought my E-Learning LinkedIn course.
He also referred 'Social Media Made Simple' to others "I have been trying for a long time to find a book or publication which explains in a simple way an approach to social media for small businesses. I have spent a good deal of money on books but didn't come up with anything that I considered user-friendly until now."
Not a bad result for publishing an eBook on BookBoon.
You can get your copy of 'Using Social Media for Personal Gain' here for £5.99 (you get a small discount using my link). If you enjoy it, I would be grateful if you would leave a review on the BookBoon site. 🙂
Word 2013
My latest publication is a book about Word 2013. There are lots of books about using Word available, so I decided to make this book a step by step journey through each of the commands in the Word 2013 ribbon. I learnt a lot by writing the book and I hope that it can be used as a useful reference guide for others.  On the first afternoon of publication, it received 1300 downloads – so hopefully it will be as successful as 'Using Social Media for Personal Gain'.
A review of the book
"Very easy to follow, I would highly recommend it!"
You can purchase your copy here for £3.39.  If you find it useful, I would again appreciate it if you would leave a review.
What Next?
I'm currently working on Advanced Word 2013 and Excel 2013 is in the pipeline.  It does take time to write the books and I pay the wonderful Alison Neale, the Proof Fairy for proofreading. The revenue generated from the books will cover my costs, but not my time. However, in terms of marketing, it has been a great way of getting my brand out there and it has directly led to business already. As with all content, once it is written, it will be generating marketing opportunities for many years to come.
Your Turn
I chose to write a full-length book and publish on BookBoon. This is an extreme case and may not be for everybody! You may just want to write a short eBook or pamphlet to publish on your website or distribute via social media or give to prospective clients as a follow up to a meeting. There are all sorts of ways you can use the eBook once it is created and don't forget that you can reuse snippets from it all over your social media. If you want to know more about publishing with BookBoon or planning, writing and distributing content let me know – or add your comments below.